Professional Gutter Cleaning Service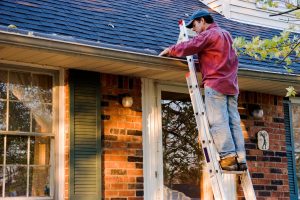 Gutter Cleaning Edwardsville, Bethalto, Alton IL
Keeping your home or business looking good can be a difficult task if you do it yourself. Hiring a professional gutter cleaning service to clean your gutters in Illinois can help you keep your home or commercial property in the best condition.
You have invested a lot of money in personal property, so it's important to take care of it in the best way possible. Clean gutters are one of those things that are often overlooked, but they shouldn't be, because the consequences of clogged gutters can be very high - into the thousands, or even tens of thousands of dollars in damages high!
Guttering Cleaned Maryville, Glen Carbon, Collinsville, Troy IL
Over time, leaves, dirt, and other debris can accumulate in the gutter drains and downspouts and clog them. If you don't take care of this problem right away, it can cause problems. Gutters can overflow causing water to pool next to the foundation of your house, and that's where the real damage can occur.
Clogged gutters can lead to ...
Structural Foundation Shift. This is where the soil erodes around your foundation to the point that the entire structure can slip. This will lead to cracks, doors that won't open, and water damage to your home.
Major Water Damage. If your home or office has a basement like many structures do in Illinois, water pooling near your exterior walls has a way of finding its way into cracks in your homes external barrier. As fluid invades and temperatures change causing water to expand, those cracks will become bigger and if left unattended that water will inevitably find its way into your basement. This will lead to mildew, mold, and in some cases flooding.
Pest Infestation. Especially in the warmer months, standing water in gutters and decaying leaves inside attract many different kinds of pests - particularly mosquitos who will lay their eggs in your gutters. If you're going outside to enjoy some fresh air in the spring or summer and notice you're immediately hit by a swarm of mosquitos or gnats, it could be you need to have your gutters cleaned.
Get My Gutters Cleaned in Illinois
If we can help you with professional gutter cleaning services today, or if we can assist with window cleaning, pressure washing, ceiling fan cleaning, or chandelier cleaning, please give us a call today at 618-249-4999
We would love to help you have a properly functioning guttering system and a beautiful home or office.